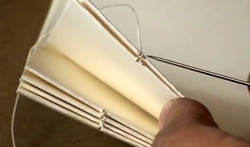 Bookbinding videos (2009) - YouTube playlist (4 parts).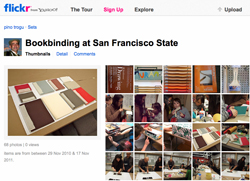 Flickr pics from 2011 bookbinding workshop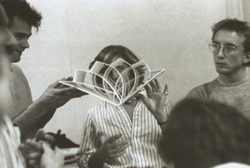 RISD concrete books class (1985) and VCU bookbinding class (1990)
SUPPLIES
Once upon a time, these supplies could be found at the SFSU bookstore, now (2013) I am not sure...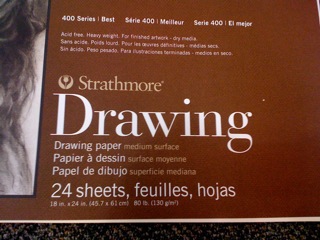 Strathmore Drawing Paper 80 lb.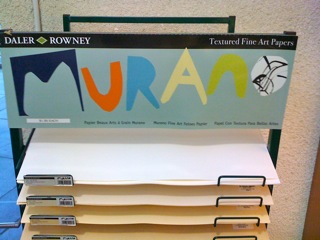 Murano paper, good for end sheets and hard back covers.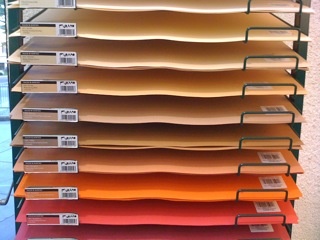 Play with color combinations for end sheets and covers, but whatever you do, don't use the same paper for both.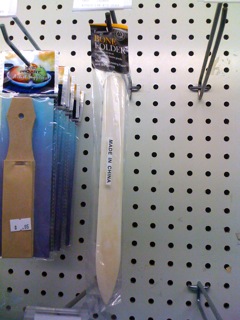 Bone folder.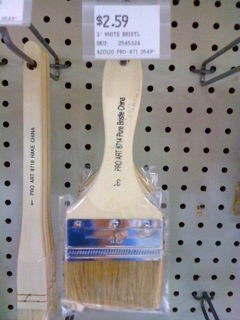 Cheap brush.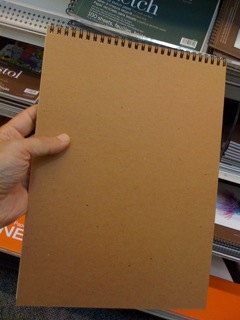 Chip board.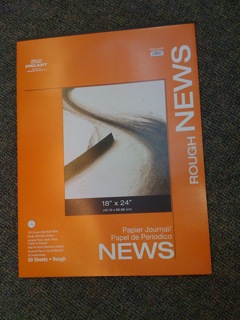 Newsprint paper pad.
Day 1: Folding and stitching
Fold signatures, stitching with thread, add end pages, apply glue and mull to spine. DO NOT OPEN book until it's completely finished and dry with the hard backs (day 3).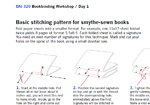 Download the annotated basic stitching diagram (single page PDF).
Day 2: Hard backs
Trim book, apply headbands, add bookmark ribbon if desired, cut boards to size, glue hard backs onto bookbinding cloth or paper, glue end pages to boards, put under book press (heavy books). Leave overnight. Next day, slowly open pages sideways with blunt blade in case glue has joined pages together. DO NOT OPEN pages by forcing, they will rip!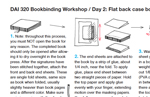 Download the annotated diagram for the hard back construction and glueing (2-page PDF).
Materials you should bring, see also page 8 of PDF below.

Day 1
Paper for signatures, 80lb Strathmore Drawing is great, off-white, for a sketching blank book.

Paper for end sheets - Murano paper at bookstore is good.

If you have it, a large darning needle. I will bring bookbinding needles, they are big with slightly blunt tips. I hope to have enough for everybody.

Thin satin ribbon or similar for bookmark, if desired.

Bone folder.

Glue, elmers white or PVA (bookbinding glue).

Pencil, metal ruler, large scissors, olfa knife, utility knife, if nothing else: X-acto knife, my least favorite type of knife.

An old apron, it will get messy!
Day 2
Paper for covers, Murano also works. Do not use the same color paper for pages, end pages, and covers. They can contrast or complement or be in a similar hue range. The sheet for the cover should be large enough for both front and back cover side by side plus the spine in the middle plus a few inches all around (single sheet).

Chip board, thickess depends on how large the book is, but a good weight is the chip board used for the back of yellow pads or drawing pads. The grain of the chip board should go in the same direction as the spine.

Again, glue, and also pencil, metal ruler, large scissors, olfa knife, utility knife, if nothing else: X-acto knife, my least favorite type of knife.

Cheap 3" flat brush or similar.

If you can, a large pad of "newsprint" paper. Otherwise will use what we have in classroom.
I am sure there is something I am forgetting, but will figure it out...
Bookbinding PDF
Download the PDF with some info on bookbinding.

Bookbinding supplies
The best place to buy bookbinding supplies is Talas in New York. They have a website where you can order directly. Otherwise check local art stores, Arch and Flax are the best. See the list below.
Bone Folder page at Talas Bookbinding Supplies.
Most art stores carry this, including, I think, the SFSU bookstore.
Art Supply stores in San Francisco.

Aaron Brothers 5600 Geary Blvd
Amsterdam Art 5424 Geary Blvd
Arch 99 Missouri Street (at 17th Street)
Artist & Craftsman Supply 555 Pacific Ave
Blick Art Materials 979 Market St
Flax 1699 Market Street @ Valencia
Utrecht 1930 Van Ness Avenue and 60 Federal Street, 4th Floor
Please double check the web before driving to any store, as the above information may have changed.
Note: if you have a "dovetail" saw, please bring it (mainly for Day 1). It looks like this: